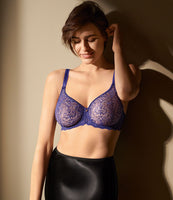 Bra Fitting Service and Lingerie
Located in West Edmonton Mall. Walk in today for a free private bra fitting. Les Saisons Lingerie offers the widest selection in Alberta to meet your needs.
We're Here to Help!
Our bra fitting experts can help you with any questions concerning fit, comfort, or style! We're always here to help. We have our customers' bras on file for your ease and convenience. Reach out to us anytime via email or phone and someone will get back to you as soon as possible.
The Perfect present
Gift Certificates
The perfect present is one they get themselves! There's nothing better than a good fitting and feeling bra or something special for a romantic night out, especially when it's a gift. We now sell gift certificates online that you can use both in store and online. You can always buy gift certificates in store. Gift Cards Here.
Testimonals
"I arrived at Les Saisons for a bra fitting (walk-in) and was promptly greeted by two wonderful ladies (I wish I had gotten their names!) Long story short, I got professionally fitted for the RIGHT bra and RIGHT size, purchased two awesome bras and was out of the store in less than half an hour! I actually had the fitting lady throw out my old bra and wore a new one out of the store. Lol. The lady who did my fitting was quite a bit younger than me but she was so sweet, professional and knowledgeable. Yes, the bras are a little pricey but completely worth it to come away with the proper bra that you'll love and actually fits! Especially as a bigger chested lady! I have been fitted at one store before and came away with 3 or 4 bras that after wearing for one day realized how ill fitting and uncomfortable they were. I highly recommend shopping here for your perfect bra and am so excited that their website is now up and running for online shopping!"

Jen G
"If you are a lady that needs a good bra you need to go here. Michelle and her team have many bras available but you need to try them on for a fit. I tried on many and came away with a great bra for a party dress that evening. My bra was ok but with weight loss and gain my size has changed. Go in, be patient and try on. Michelle is an experienced fitter and knows her stuff. Thank you to Michelle and her staff! Xx"

Jazzy M
"I never write reviews but I just had the best bra buying experience of my life and had to leave a comment. I have been a loyal Victoria Secret customer for many years, but now that I'm in my mid 30's I no longer like the fit or quality and was looking to start over with a new brand. The staff at Les Saisons quickly figured out my REAL bra size and made the entire bra fitting experience so easy and comfortable. They were friendly and easy to chat with and gave the best customer service I've received at any retail store. They just gained a customer for life! Even though the bras are more expensive than what I'm used to paying, I can already tell that the fit, comfort and quality are worth every penny. I cannot recommend this store enough!"

Kate S
Location
Our Store
West Edmonton Mall
8882 170 St NW Unit 2357 
T5T 4M2 Edmonton, AB Canada 
  Business Hours:
Monday - Friday 10:00am - 9:00pm
Sunday: 11:00am - 6:00pm